There are many different types of attitudes you can create in your Dining Room, this is a quick guide to help you decide what one works for you…
Creating a Glit's and Glam Dining Room
Key Feature: sparkle and shine, fur, textures and shapes, monochromatic
I chose these example because I wanted to show that you could achieve the look using pastel colour scheme or black and white. Home depot has some great metallic wallpaper collections if you wanted to check some out to get inspiration for a feature wall.
Coastal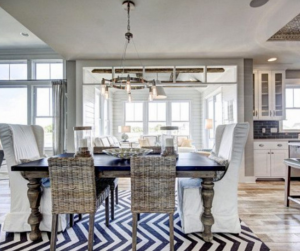 Key Features: nautical colours, stripes, whicker, light and airy colour palate.
I really like this example of a nautical dining space, the use of a darker blue does make it easier to be applied to more then just cottage or lake front living.
Rustic Living
Key Features: Stone, wood, natural materials, earth tone colour palate.
Rustic decor has so many options and variations. I love the use of barn doors as side panels for the window instead of drapery. At home you could use vinyl flooring for the ceiling if your are not lucky enough to have natural wood rafters like the example on the right.
Country Inspiration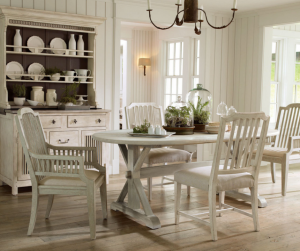 Key Features: Lots of wood, layered textures, warm colours, most country styled dining spaces have sideboards or storage like you see in the example.
Traditional Decor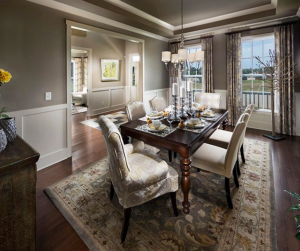 Key Features: chair rail, cornice moulding, neutral colour tones.
In most applications a traditional dining room is a separate room, a room only used for those special occasions or a larger gather. Most home designs have pulled away from the separate room concepts, however if a traditional looking space is what you want to create you can certainly do it in a open concept layout, the theme will just have to taper off into the other areas so that the flow is still smooth.
What About a More Modern Feel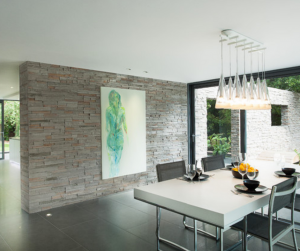 Key Features: minimalist, metal, stone, simple, geometric shapes.
This is just a quick review of the more common theme. Adding your own tastes is what will make it feel more like home