There are many different types of attitudes you can create in your Bedroom, this is a quick guide to help you decide what one suits you…
Creating a Glit's and Glam Bedroom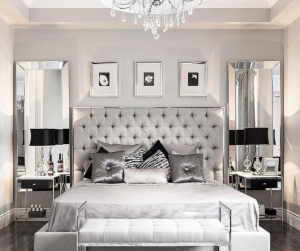 Key Feature: sparkle and shine, textures, glass, monochromatic, fur, chandelier
Coastal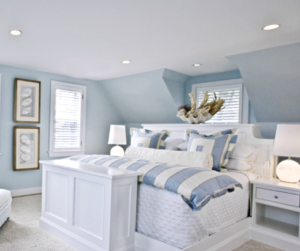 Key Features: nautical colours, stripes, shells, light and airy colour palate.
Some coastal theme will use white furniture and storage, other will use wicker or natural wood furnishings and detailing, what one you choose is all about your person taste.
Rustic Living
Key Features: Stone, wood, live edge shelving, natural materials, earth tone colour palate.
Not everyone lives in a home with super high ceilings or large wooden rafters, and thats ok, we can still achieve the rustic look with your basic elements. You can create your own stone feature on your wall to look like a fireplace, add a live edge wood shelf, put some candle holders on the shelf, add a fireplace screen – even though you don't have an actual fire place – and you have created a smaller version of the example above. I found some great screens on amazon, there is a great variety, I'm sure you'll find one you like.
Country Inspiration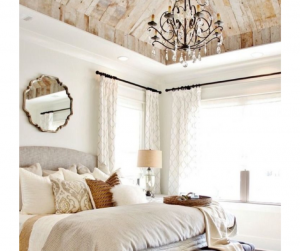 Key Features: Lots of wood, layered textures, warm colours
If you have been going through the indoor living pages i'm sure your seeing a re occurring element in a lot of the themes, the use of wood on walls and ceiling to add to the character of the space. If you don't want to use wood, there are many vinyl options available to you at your local hardware store.
Traditional Decor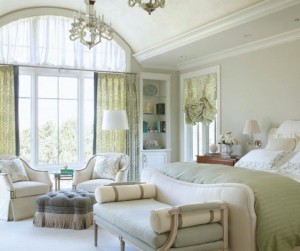 Key Features: cornice moulding, neutral colour tones.
Contemporary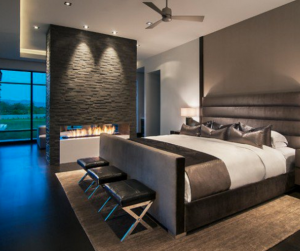 There really is a fine line between a contemporary and modern styled space. The one difference that really stands out to me is that the contemporary space usually has bit more warmth in the finishes then the modern space.
What About a More Modern Feel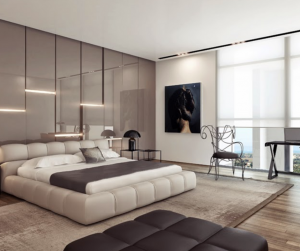 Key Features: minimalist, metal, stone, simple, geometric shapes, leather.