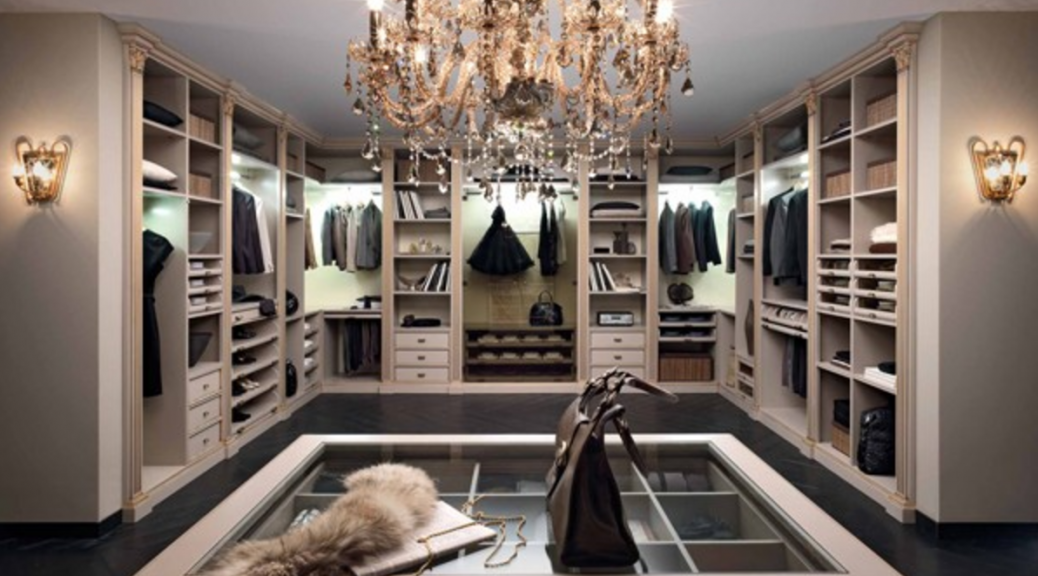 Building the Perfect Closet
Building the Perfect Closet
The dream closet is something many people literally dream of… I'm someone who likes to take those dreams and imaginative ideas and find a way to make them work in reality…  Lets take a look on how we can do that together.
Like any project in your home, building the perfect closet is the result of a good plan. The plan can always evolve once you get started, but you need a good direction before you get going. There are a few things to consider before you get started…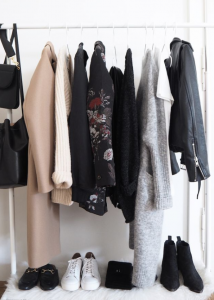 Take an Inventory of Your Stuff, we all need a place to hide and store our stuff. For me its the endless pile of show boxes, for you it might be a colourful collection of shirts. Whatever it may be, take an inventory so that you will know all that you will need your closet to do for you.
While taking your inventory you will also want to consider how you want your items stored. This will help determine how many shelves and how many hanging spaces you will need.
The more information you gather the better. During this process don't be surprised if you find things you forgot you had, or purge some thing you don't wear anymore. All part of the process, it will be fun and stressful all at the same time.
Maximize, Maximize, Maximize, we are not all blessed with bedroom sized closets, and even if you are we still need to maximize all the space. Use corner shelving where you can, and make sure to build up the entire height of the wall. Its sometimes the smallest things that create the biggest impact.
Typically a basic closet has a single bar that spans from one side to the other. This basic design leaves so much usable space un-used. I recently came across an issue with a closet like that in my home. Maximizing the space by using the full height of the wall made it possible to add two layers of hang bars along with some shelves making the closet way more useable.
You can read the post by clicking the link below…
Lets get back to it…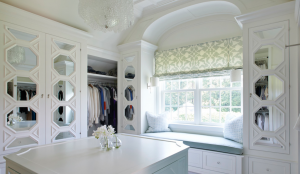 Every Good Closet Has a Mirror, yes every closet needs a mirror, or two. It's one of those things we forget about until we have to stand on top of the bathroom toilet to be able to see the full outfit… I know we all have been there…
If you do have a walk in closet the use of mirrors and mirror accents will help make the space seem bigger and brighter. If you don't have a walk in closet you may want to consider a standing mirror close by,  or you can instal a mirror on the back of the closet door or bedroom door.
Use Thinner Hangers, I swear by the use of thinner hangers, especially the ones that have a felt coating. They not only save crazy amounts of space in comparison to the regular white or wooden hangers, but they also stop your cloths from falling off or leaving stretch marks on the shoulders . I get mine from Costco or Home Sence. Love Love Love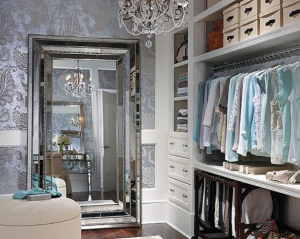 Add a Little Bit of You, when putting your closet together add some personal touches. Use hangers in your favourite colour, create a feature wall with some wall paper.. If you have the space you could also use some decorative storage boxes. Hand some picture. There are tons of things you can do.
Combination Storage Will Help, not everything in your closet will be on a shelf, or on a hanger, or in a drawer. You are going to need a combination of all of these elements. This is where your closet inventory will become key, it will help determine how much of each kind of storage you will need.
Sort Your Accessories, keeping your accessories organized and separated will make it easier to work with. You can use drawer organizers for loose jewelry, baskets for scarfs, hooks for belts and so on. If your closet is large enough you could use glass bowls on a shelf or table to put some of your things in as well. Organizing your accessories may be a big job, it could be a post all on its own…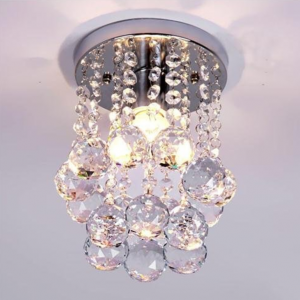 Keep Your Lighting in Mind, lighting sets the mood, it will make it easier to find things in your closet. Choosing the right light will effect how your cloths and outfits look when your putting things together. Depending on the space you have to work with you can choose a combination of different lighting as well. I'm a sucker for a nice chandelier.
We have covered a lot to get you started. A women's closet can be there happy place, take some time to make it just right for you…