Kitchen and Bath
Kitchen and Bath
There are many different types of decor and design choices you can make in your Kitchen and Bath design, this is a quick guide to help you decide what one works for you…
Creating a Glit's and Glam Kitchen and Bath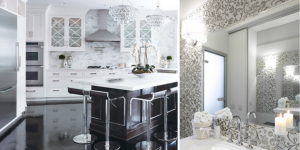 Key Feature: sparkle and shine, textures, glass, monochromatic
As you can see in both examples, there are feature walls that create depth and add to the look. In the bathroom you have a metallic wallpaper, in the kitchen you can see the stone backsplash that is carried through the entire wall.
Coastal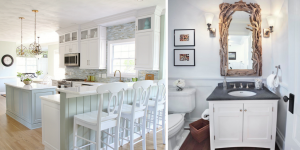 Key Features: nautical colours, stripes, whicker, light and airy colour palate, beach wood, shells.
For the do it your-selfer, how awesome is that mirror in the bathroom example, you could really get creative wit this, even add some string lights wrapped into it for a little bit of mood lighting while in the bath…
Rustic Living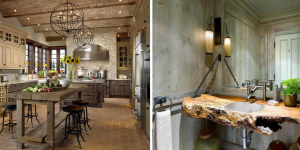 Key Features: Stone, wood, live edge shelving, natural materials, earth tone colour palate.
live edge wood is so popular right now, you can get in different types of species, stain it to suit your colour palette, just amazing element for your space. I have started to see people update their kitchens and instead of doing full cabinets they install live edge wood floating shelves. looks fantastic and it would be a lot more cost effective then full custom cabinets… depending on the wood you choose of course…
Country Inspiration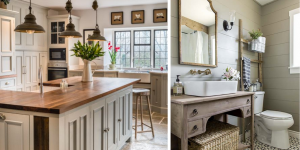 Key Features: Lots of wood, layered textures, warm colours
In this style you will also see kitchens that have the countertops done in a stone of some sort and the island in a wood top, or the cabinets on the wall one colour and the island another, these types of detailing add character to your design and also allows you to express your creativity a bit more.
Traditional Decor 
Key Features: cornice moulding, neutral colour tones, clean and fresh look.
Contemporary
Key Features: clean lines, smooth finishes
What About a More Modern Feel
Key Features: minimalist, metal, stone, simple, geometric shapes.