Garden and Outdoor Living
Garden and Outdoor Living
 Want This Look??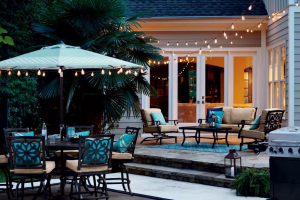 Building your backyard oasis involves many different layers of things to consider and put together… Planing and planting your garden, lawn furniture, lighting, entertainment spaces, decks and or patios, BBQ and more. Its ok to do it in stages, I fact its probably better for your sanity and wallet to do so.
Start with your plan, think of where you would like your gardens to be, how much patio space you would like to have. This starts the ground work and foundation for your back yard. Once you have that figured out you can start to work through your budget to see how much things will cost. When it comes to any kind of home improvement projects costs can get away from your really easily. Having a plan and a reasonable budget can help keep the spending in check.
Now the fun stuff… The shopping.
After you have your deck and patio built you will want to be able to sit and enjoy it. There are so many great options for you, you can have table and chair seating, you can enjoy lounge seating, or if your like me you may want to have a little bit of both..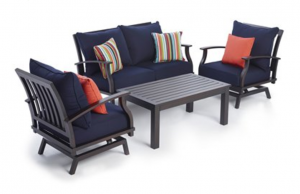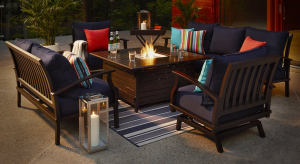 Found this great set at Lowe's, the decorative cushions don't come with it, but thats ok, gives you a chance to add your own. Outdoor cushions can be found just about anywhere during patio season, you shouldn't have any problems finding ones your like.
So we followed our plan and got out patio and garden laid out, we picked our patio set and added our decorative colours… Now we accessorize.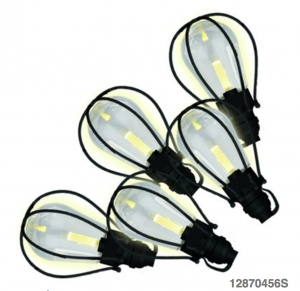 Lighting is something to consider. Another great find at Lowe's, this light string is 20′ for only $24.99… I don't know what it is about string lighting but I love how they look, there is no right or wrong way to add them, just have fun.. swing them from your roof across to some trees, or around your umbrella, whatever you want to do. Express yourself..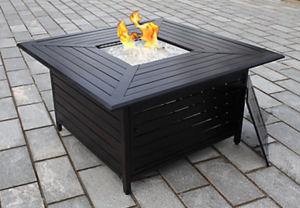 Patio heaters are also a great accessory. We have all experienced a cooler evening where our time outdoors may have been cut short. Keep the party going with a patio heater…
You can get different types, you can use a tall standing propane patio heater they range from $100-$500 depending on what your needs are. You could use a fire pit, you can get ones that run on propane, or you could burn real wood, if you want to do burn real wood in your pit then I would get one that is enclosed with a mesh fire screen for safety, especially if your close to your home. I couldn't find the table in the seating example above, but I did find this great one at Home Depot. As you can see it come's with a cover for the pit so that if you don't want to have the centre exposed you can cover it for the full use of the table, the cover will also protect the put when its not in use. There are seriously so many options, and almost every hardware store carries them, you will definitely find what you need.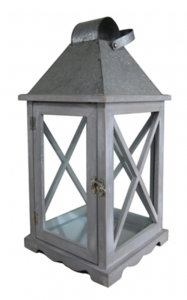 Another big trend right now is the use of lanterns in the decor, I'm sure you have seen them in many decor magazines and stores. You can get them in metal or wood finishes. they come in many different shapes and sizes. I love things that you can find in a variety, it allows you to truly pick the piece that speaks to you and helps you fulfill the image you had in your mind when you thought of the great space you wanted to create. Once you find your lantern you can choose to burn candles in them, fill it with LED light strings, or just simply use them as a fixture the way that they are. The one I found for this example is from Lowe's, its only $29.99… Who ever said you couldn't do all the things you wanted on a budget.
One last touch… If entertaining is part of your backyard plan, consider making a food service and bar area, no host wants to spend most of their time inside making drinks and preparing food while everyone is enjoying themselves outside. Depending on what your budget is, you could start with a simple design that includes your BBQ, and maybe a covered area where you could have a bar top for food platters, and some under counter shelving for glasses and mix. Or you can work towards a more elaborate built in that has everything you will ever need as part of the design.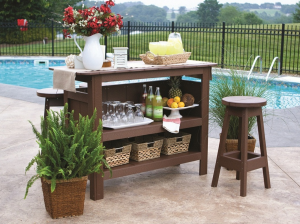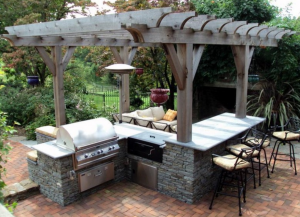 I hope reading this helps you when you sit down to do your backyard planning. Starting is the tough part, once you have a plan you will see it starts to get easier 🙂
_________________________________________________
Shade Loving Plants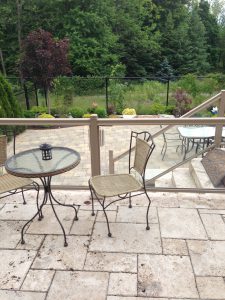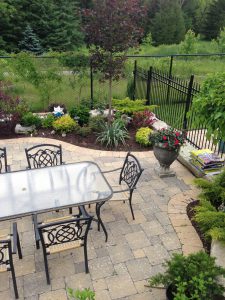 _______________________________________________________________________