Finishes Reviews
Finishes Reviews
Bamboo Flooring as an Option
I don't know if you have ever considered bamboo flooring as an option but you definitely should… Many Bamboo distributors promote this product because of its strength, it's eco friendliness and its ability to naturally resist moisture and insects.

For the indoor air quality conscious homeowner Bamboo flooring can be purchased with or without the use of a urea-formaldehyde (UF) adhesive in the lamination process. The concerns on VOC's and the harms it can have on the quality of the air in you indoor space is something to be mindful of. Something to keep in mind, even if you go with a bamboo product that did use UF adhesive, it is a relatively small amount.
This product comes in a variety of colours and is fairly easy to install for all you DIY lovers, not to mention it has multiple applications, have you ever thought about using it as a feature wall?
Aura Paints By Benjamin Moore

I'm a big fan of products that are designed to be more environmentally friendly and are also a healthier choice for your indoor air quality. One of my top picks is the Aura paints collection by Benjamin Moore. It has Zero VOC and it is also mildew and smudge resistant. This product is available in indoor and outdoor options, they can be purchased in matte, eggshell, satin and semi-gloss, and they come in just about every colour you can think of.
I know… Almost any home project makes dollar signs float in your head. One thing I like about the Aura paints collection is that they are a paint and primer in one, this is great because it means it will take less coats to cover your walls and therefore less time and money to finish your project. You will need approximately one gallon of paint for every 200 sqf, that's with a two coat application.
This paint is pretty awesome, it uses a special binding process that protects the pigment, this allows the colours to be brighter and the paint to withstand repeated washing without colour rub off. This kind of durability makes it great for homes with pets and children.
Laminate vs Hardwood – What you need to know to help with your decision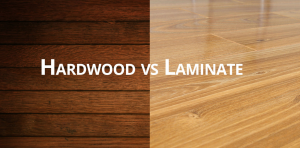 Choosing between laminate and hardwood can be a tough decision, let's break it down into a couple of categories; the cost, the durability, and the repair of each product.
What It Is And The Cost
Hardwood, comes form harvested tree, some of the wood that can be purchased can be very exotic. Because of this, the price of hardwood and the install of it can be very expensive.
Laminate, is made from composite wood pressured together at high temperatures and then glued. The prime elements of the core layer is manufactured from melamine resin and fibre board material. The image of the hardwood is then placed over the composite wood, covering it to form the laminate. This product is about half the cost to purchase and to install.
How Durable Are They
Harwood, although it looks amazing and can add value to your home it is very susceptible to scratching and damage from moisture. When doing day to day cleaning you need to be very mindful of what products you are using on the floor and to stick with dry cleaning applications as much as possible. The life of your wood flooring can span 40-80 years if taken care of properly. Keep in mind, during this lifetime you will have to periodically refinish the floor where wear and tear has occurred.
Laminate, in many ways it is the opposite to hardwood, because of it's makeup of pressed wood it is much for durable, can resist scratches, moisture and wear and tear. There are different ranges of quality, a lower end laminate will look very artificial, and a higher end can look very similar to the real thing. A reputable manufacture will offer 10-25 year warranties on the finish. The average life span for this product is approximately 20 years.
The Repair
Hardwood, can be repaired; it can be sanded down and refinished which gives it a longer life.
Laminate, depending on the process used for install (floating floor, or glued down) you can lift individual planks to be replaced. This may sound easy enough, however depending on sun exposure and age, the colours of the replacement pieces vs the existing floor may not match.
If you are someone who is environmentally conscious, there are implications to both products. The hardwood involves the harvesting of tress, once they are harvested they need to be replanted and it can take a very long time for them to hit their maturity again. The process of manufacturing laminate flooring uses chemicals to press and glue the composite materials together. Although many companies use low toxicity glues, there is still the risk of toxins being emitted into the air.
Before buying, it is important to know all the pros and the cons of both products and way them out against what your individual needs are. Some of the things to think about… If you have young children and dogs, you may want to hold off on the hardwood. If you are refinishing a basement laminate is a great choice. If you are looking to upgrade some of your finishes in a room with lower expected traffic like a dining space, the hardwood would add tones of character. Most Hardware stores offer a variety of colours and prices for both flooring types. Check them out… And happy decorating!
_____________________
Vinyl Flooring
The options for your home improvement needs seems to be endless… Here is another product to consider for your home.
For most people who have chosen this product for their floors do say that the pros for them out way the cons.
Quick Overview
Vinyl flooring use to be used more specifically in industrial applications, more recently the homeowner has taken interest. Vinyl is frequently chosen because it is a low cost, durable, and easy to maintain product that is also water and stain resistant . This makes it a popular application in Bathrooms and kitchens.
You can purchase vinyl in sheet or tile form. If you are looking at tile, the option for this flooring that I would suggest is the tile that is manufactured as an inlay tile. What that means is that the colour or pattern is layered in all the way through to the backing of the tile. Because of this layering, if over time a layer or two wears away, the colour or the pattern will still be there. For high traffic areas or for households with pets and children this is a plus.
Colours and Finishes 
Now for the fun stuff, the colour options… Currently because of it's increased popularity many manufacturers produce this product in a number of colours and finishes. The tiles are created to closely resemble flooring materials such as wood, terrazzo, stone and concrete. The look for a fraction of the cost… Below are just a small sample of what you can find.
Prices for these products can start from just a few dollars per square foot. Some hardware stores list pricing by the case, others will allow you to buy it per tile.
Installation 
What about the installation? there is good news, vinyl tile can be easy to cut and installed. The average do it yourselfer can usually take on this project, especially if the tile purchased has the self- adhesive baking. Some caution should be taken if trying to install sheet vinyl, this product can be more difficult to install and it is recommended that you seek a seasoned professional to get the best results.
Some Things to Keep in Mind 
As mentioned before, there are so many benefits to this product that most homeowners are willing to overlook some of the pros. One of the selling features of this product is the comfort, it is softer to walk and stand on, with this great benefit also comes a concern. Although dropping a glass or dish on this floor may not shatter it, if a sharp or hard edge were to fall on it, it can be gouged and damaged, depending on how it was installed it may be hard to replace the tile. Another concern worth mentioning is the environmental factor, as the concerns of indoor air quality have grown over the years many manufacturers are using less PVC in their flooring product. However this type of flooring is manufactured using polyvinyl chloride, otherwise known as PVC. This material will emit volatile organic compounds (VOC's) into the air, especially when it is new. This flooring is also not recommended for outdoor use as it is susceptible to damage from sun exposure.
Knowing all the facts is a great step to doing what is right for you. The variety of products for you to use in your home is forever growing. It is exciting and at times a little overwhelming. Look at your needs, and your budget, there are tons of creative solutions for every challenge. Being ready with a plan will make your home improvement projects a lot let stressful. Decorating should be fun, after all it is an expression of you…