Tips and Tricks
Tips and Tricks
Tip to Start Decorating your Living Room

When starting a new space or recreating a space, we usually start with searching the internet or magazines for inspiration. One thing I like to do is also include nature. The end result of a space should be somewhere you want to be, your home should be your oasis.
Currently I'm in the process of recreating my home, the above image is from a place my boyfriend goes fishing. I am using the colors in this image as my palate in the space. With the mixture of dark and lite shades of blue I can have a feature wall of the darker shade to add some depth. To integrate the corals and purples I will add some accents using flowers on the coffee table or side table or decorative cushions for the couch and chair. We want to pull some silver from this image to reflect the water. Silver accent pieces are very common in decorating stores right now, I would find a piece that speaks to me and use it on a mantel or table.
I may even have this image or one like it framed for the wall to tie things in. All it takes in one image that speaks to you, and suddenly the creative juices start to run, and before you know it your space starts to take on a new life…
________________________________________________________________________
Multi Purpose Furniture Pieces for Your Living Space
Now a days we find we always need more storage, or at the very least we need things that are versatile in our homes. I get excited when I find pieces that I can do many things with. Take this great bar cabinet by South Shore for example.
From a first glance it looks like a simple side board, but once you open it it shows all its potential. Something like this is great for someone that likes to entertain, once it's stocked up you are good to go.
I use to live in a condo, space was a luxury I didn't have. I got a piece like this from Pier One. It's one of my favourite pieces in my house now. For some placement ideas, I use mine in the kitchen, I have it set up on the wall behind my kitchen table. Why the kitchen? Kitchens are typically the focal area of entertainment when you have your guests over.
I don't know about you, but when I'm cooking I don't want guests in my way looking for glasses, wine, mix and so on. Having things set up out of my way, but close by so I'm still part of the party is the total win win I'm looking for….
___________________________________________________________________
It's Almost Patio Season! Create Your Perfect Outdoor Living Space 
Your outdoor living space is just as important as your indoor living space. It's an extension of you and should be your mini oasis / getaway.
Most of us live crazy and busy lives, we all need that place to go to relax and unwind. You want that feeling  you get when you spend a week on vacation on the beach. So why not create that in your outdoor living space…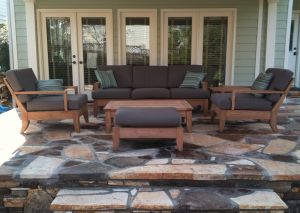 When choosing the perfect patio furniture you want to make sure you have a few things checked off. First pick your color pallet and style you feel most attracted too. Then make sure you have all the measurements right.
I sometimes use green masking tape to section off the places I am thinking of using for the furniture, accents and so on, this way you can step back and see the layout you have created. Sometimes you will realize that the spacing is tighter then you thought, or the opposite will be true and you can be sure you are picking out the right sized pieces for the space.
Finally before you buy, you want to check the fabrication and the materials being used, you want to make sure the cushions use Sunbrella fabric. Sunbrella fabric can withstand the intense rays of the sun, you want to be sure you arnt spending money on something that will break down or loose color after prolonged outdoor exposure. You also want to be sure that the seats themselves are constructed from materials that can handle intense heat and moisture. Patio sets can be a large purchase, you want to take your time and choose the one thats right for you.
Once you have chosen your patio furniture set, you will need your add ons to complete the mood. My favourite go to item for my outdoor living space is a fire pit. I found this great one on Amazon.com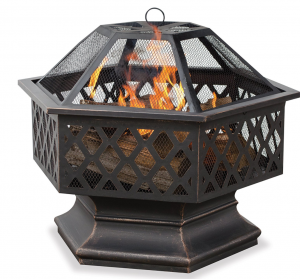 For the purposes of this example I felt it really added to the ambiance of the patio set I chose. I can just imagine myself with a glass of wine sitting on my totally gorgeous patio set, fire going, stars shinning, happy in the oasis I have just created.
____________________________________________________________________