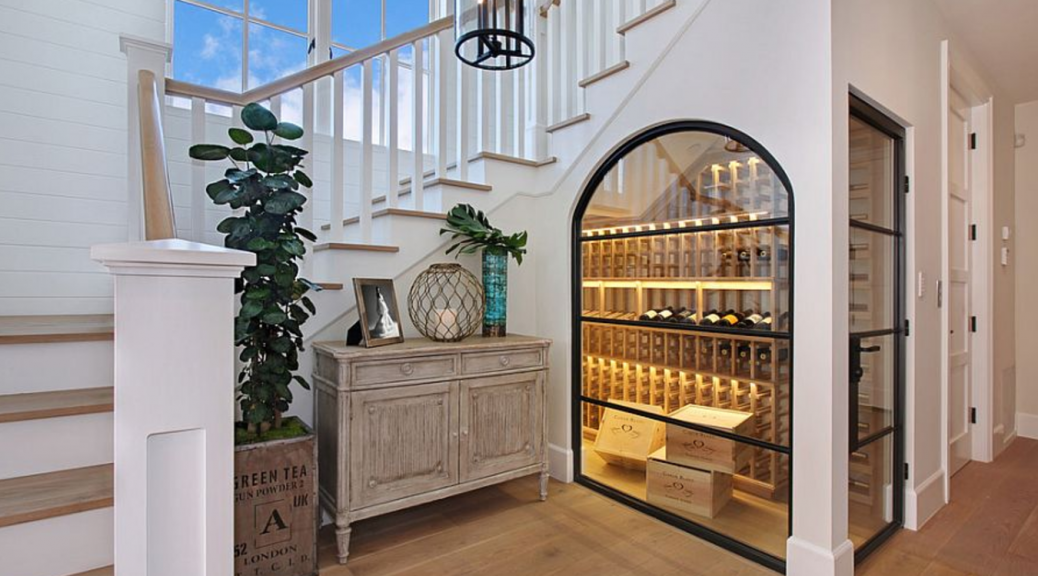 Ideas for Under the Stairs
Ideas for Under the Stairs
Looking for some ideas for under your staircase?? How about a play area for your kids, or a dog room for your furry friend, storage is a easy solution if you don't have enough space in your home elsewhere. Maybe you need some space for a book shelf, or a desk… you can really get creative and have a lot of fun creating something for your home under your staircase.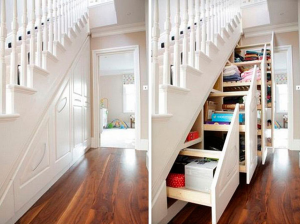 Storage – I have seen some great examples of under the staircase storage options. Some homes don't have a large enough hall closet, or a hall closet at all, but they do have a staircase near by. Why not use the space under it as an additional closet or storage space?
There are companies out there that can do custom builds like the one in this example to help you accomplish your storage needs.
Note: if you are looking into storage options I would be sure to take an inventory of what you need to keep there, this will be a big step in the planning and help you ensure you will get all that you need to out of this storage option.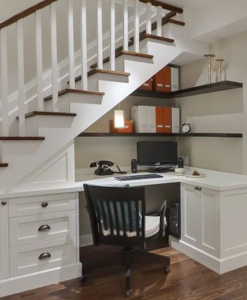 Home Office – Working from home is becoming more and more common. With the age of computers we don't all need an entire room or even a whole lot space for our home office, we just need somewhere to go where we have an outlet, a desk, a comfy chair and place to do our thing.
Of course weather or not this will work will depend on the layout and where your staircase is… It may not be a good fit on the main floor, but usually you can work out the space in a basement.
Because it's an exposed element I would suggest some storage space incorporated in it. This will give you a place to put things you don't want to have out on display away and will also help this area look clean and less cluttered.
Decor elements are also important, you want to be sure that the deign and decor works with the theme of the room that it is in.
Wine Storage – It would be a dream to come home to a wine fridge like this…
It's a more elaborate example of something that you could do. I'm thinking the perfect place for something like this would be in a finished basement where you have an entertainment space…
This project would be a fantastic addition, not only for the use, but aesthetics as well. The construction and install of this would be costly, so if you like this idea but don't want to additional costs I would look to install some shelving and a wine wrack, maybe a cabinet for some glasses, and possible a spot for a bar fridge… Currently I'm working on a plan to build a more modest form of this in my basement. Im very excited to get started. Ill share the process when its done.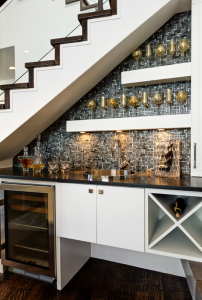 Wet Bar – Entertaining is a big part of many of our lives, not all of us have the space to do a full bar set up.
This idea could be used in a basement where you have designated an entertainment space or even on the main floor of an open concept layout where you have a seating area near by. Creating a wet bar separate from the kitchen would keep extra people out of the kitchen while your cooking and would also become a bit of a focal point in the room.
Use finishes that match the theme you have in your home so that it flows nicely.
This example shows glasses sitting on a shelf, I would maybe consider installing wine glass holders that would have the glasses hanging. It would be a bit more secure incase traffic going up and down the stairs causes vibration to the shelving. Incase your worried about space, a full size stair case will have enough depth for you to comfortably install this.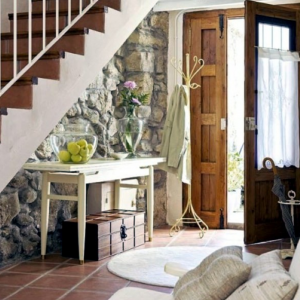 Feature Wall – A feature wall or additional seating area is also something I have seen people do with their staircases.
The location of this staircase would be great for an extra closet of storage area but the home owner decided to use it to add some character with a feature wall.
Seating Space – If you are considering a seating area, again location will have a lot to do with the function, but you can accomplish this with a built in bench type seat, or you could find furniture that would fit. If you prefer the furniture option I would suggest doing some research. Find items that you like and then measure and tape off the footprint the furniture would have to see if the size works for your layout before you purchase it.  This could save you a lot of time in the case where you accidentally choose the wrong items.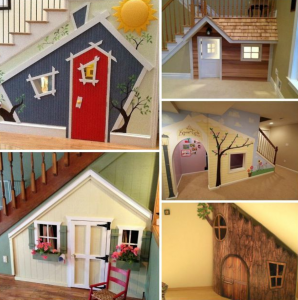 Play Spaces, For those who love to do things for their kids or their furry friends you can always convert your under the staircase space to a play house or dog area…
This is a collection of great ideas I found for kids play houses. I personally would only do something like this in the basement area, but it is really up to you and knowing your layout to decide whats best.
When creating a space for your pet you could do the same thing, but maybe not as elaborate. Doors may be optional as well depending on what you wanted.
Endless opportunities… Im hoping I was able to give you plenty to think about if you are considering to utilize your under the staircase space. Be creative and do what will contribute the most to your needs.