Outdoor Heaters and Fire Pit Reviews
Outdoor Heaters and Fire Pit Reviews
There are tons of products out there and tons of places to buy them. Patio heaters and fire pits are a really popular addition to any outdoor space and decor. Here are a few I found as examples of whats available to you.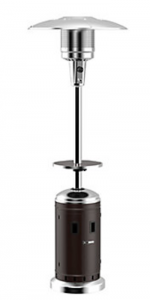 Hampton Bay Patio Heater
Overall Ranking: 4.5 stars
Price: $198
Website: homedepot.ca
INTRODUCTION

This product has 45,000 BTU stainless steel burner. It has a powder coated finish and an elegant look. Assembled it stands 86.6″ high and 31.5″ wide.

PROS/CONS
pros – most customers report that they were pleasantly surprised with how much heat the product gave off and the quality of the product for the price that it is. People have reported their uses to be for open patio heating and covered. Better results were reposted for heat in a covered patio.
cons– according to customer reviews there was no assembly instructions so it was a bit challenging to put together. It has also been mentioned that it consumed a full propane tank in just a few hours. 
FINAL OPINION/VERDICT
Overall the customer satisfaction was really high, there are always a few people that may have had a different experience with a product however in this case it seems that the many out way the few.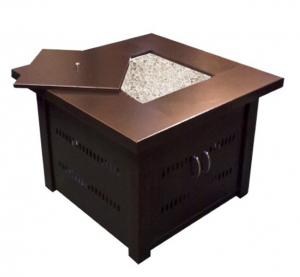 AZ Patio Heaters – Propane Fire Pit, Antique Bronze Finish
Overall Ranking: 4 stars
Price: $517
Website: amazon.ca
INTRODUCTION
This is a table fire pit. When you want the flame you can take off the cover and put it on, when you don't you can cover the centre pit up and use it as a full table. It is a powder coated finish and measures 38″ square and 28″ tall. It's a propane, butane heat output, 31, 000 BTU's. The propane tank is not included.
PROS/CONS
pros – this product can be ordered with a cover for an extra $31 dollars. I think that is a great idea to help with off season storage. It was reported that the product looked good when it was assembled and that they like the flame. reviews also mention that it was great for offering heat as well as look 
cons – the customers who left negative reviews mentioned that the cover was flimsy and didn't fit well, they also mentioned that it did nit weather well and showed water marks on the top. Someone mentioned using wax to help protect the top from weathering. 
FINAL OPINION/VERDICT
Unfortunately there wasn't a lot of customer feedback on this product,  however some of the concerns of weathering would concern me as well, after all, it is an outdoor table. If I would to order this product I would make sure to cover it when its not being used.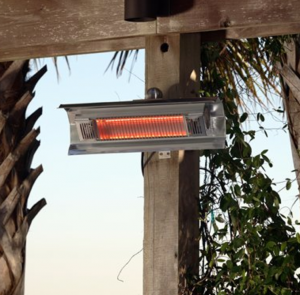 Fire Sense 02110 Stainless Steele Wall Mounted Patio Heater
Overall Ranking: 4.1 stars
Price: $279
Website: lowes.ca
INTRODUCTION
This product has a 1500 watt lamp, has no UV ray, and is a silent operation. This product advertises a 9′ blanket of heat that isn't effected by wind. The unit is waterproof, lightweight and has a protective aluminum cover shield.
PROS/CONS
pros – Lots of customer reviews on this product. Customers talk about how it is like advertised and does offer a 9'blanket of heat. Some have even purchased a second one for other uses after enjoying their first purchase.  Many customers mentioned that they prefer this product in comparison to their propane heaters. 
cons – There were some reports that the product arrived not working, the problem turned out to be that the inner bulb was not connected, easy fix but could have been frustrating. Another concern was the length of the cord, a few people mentioned having to use extensions, one even mentioned looking into moving an outlet so that they could have a more permanent solution. 
FINAL OPINION/VERDICT
Overall this was one of the best products I looked into. A lot of customers took the time to write reviews about the product because over all they were very happy. The few concerns I did come across where not things that many people had. Assuming you have a post or a wall that you are able to secure this item too, this would be the product that I would choose.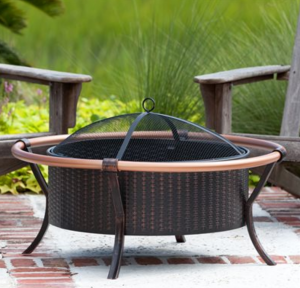 Fire Sense Fire Pit 
Overall Ranking: 4.2 stars
Price: $315
Website: lowes.ca
INTRODUCTION
This product has powder coated legs, and a fire screen that is painted with a high heat paint. The diameter of this product is 37.5″ and the hight 21.3″. This is a fire pit, no propane and no electricity. The bowl is made from steel painted antique bronze and the outer rails are done in a copper finish.
PROS/CONS
pros – many people mention that they really like how deep the bowl was, they found it gave them ability to have longer lasting fires. People who did have any product issues found that the customer service agent they spoke to was professional and resolved their issues. 
cons – some reviews mentioned issues with rust, it is recommended that you clean out and protect the pit from the outdoor elements when not in use. There is some assembly required, which surprised a few as it didn't mention it on the box when they bought it. 
FINAL OPINION/VERDICT
Overall this seems like a good product, customers feel like they got exactly what they bought. The concerns mentioned about rust varied, some mentioned bad rust and other mentioned minimal, so I'm assuming it has to do with storage of the product when its not being used and in the winter months. As someone who like to have backyard fires, after reading all the reviews it is a product I would consider.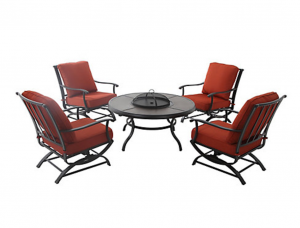 Redwood Valley 5 – Piece Fire Pit Seating Set
Overall Ranking: 4.1 stars
Price: $949
Website: homedepot.ca
INTRODUCTION
This is a seating and fire pit set. The fire pit also doubles as a table when it is not in use. It's from the Hampton Bay collection. The fire screen, poker and grate are all included with the purchase. This item is only available online. The chairs are 36″ high and 36.57″ wide, the fire pit it 22″ high and 42″ wide. Its made from durable steel frame construction. To help with longevity it is powder coated. UV protected fabric cushions. This product also comes with a 2 year frame and fabric warrantee.
PROS/CONS
pros –  customers mentioned that the instructions were exact, so even though it takes a long time to put together they were confident.A few customers reported that the Home Depot store they had is shipped to assembled it for them, they had a bit of a wait for it but they were happy they did it. Seating is said to be really comfortable, and once everything is set up it looks great as well. The chairs are mentioned often, customers say they are very sturdy and good quality. 
cons –  There are a lot of parts so some patience when assembling would be recommended some reported 3-5 hours to put everything together. There have been some issues with missing parts, but the customer was able to get them from home depot. A few people had a lot of issues with rust on the bottom of the chairs and inside the fire bowl. 
FINAL OPINION/VERDICT
This is a Hampton Bay product for the most part this companies products get good customer reviews. Overall a lot of people took the time to write a review and where pleased with the product. The things people mentioned as disappointing was typically some rust and difficulty putting together. Unfortunately everything left outside in the elements is susceptible to weathering, and assembly is something that different people would have different opinions about. The warrantee is something that I really like about the product, and would offer some piece of mind.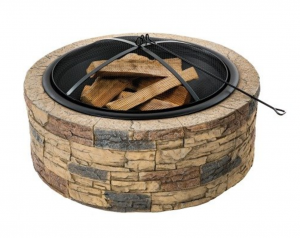 Sun Joe – Cast Stone Fire Pit 35″
Overall Ranking: 4.5 stars
Price: $260
Website: amazon.ca
INTRODUCTION
This product has a large 29″ bowl and accommodated hardwood logs 21.5″ long. The wire mesh screen with protect against sparks while fire is going.
PROS/CONS
pros – customers talk about the real look of the stone and that they feel it is a sturdy and good product for what they paid for it.
cons –  one review mentions surface fractures after only 3 uses. There is also concern about the screen, they say the gauge is to thin and it burns in the fire. Some rust issues was another concern that came up. 
FINAL OPINION/VERDICT
Overall for the price and the reviews I have seen, you may be better off building a real stone fire pit and have it away from the house, if that is an option for you of course. I have seen other fire pits that have had better customer reviews and also at a better price if you want something for the porch. This product is also available at home depot, there were many reviews here as well if you are still interested in looking into this product further.