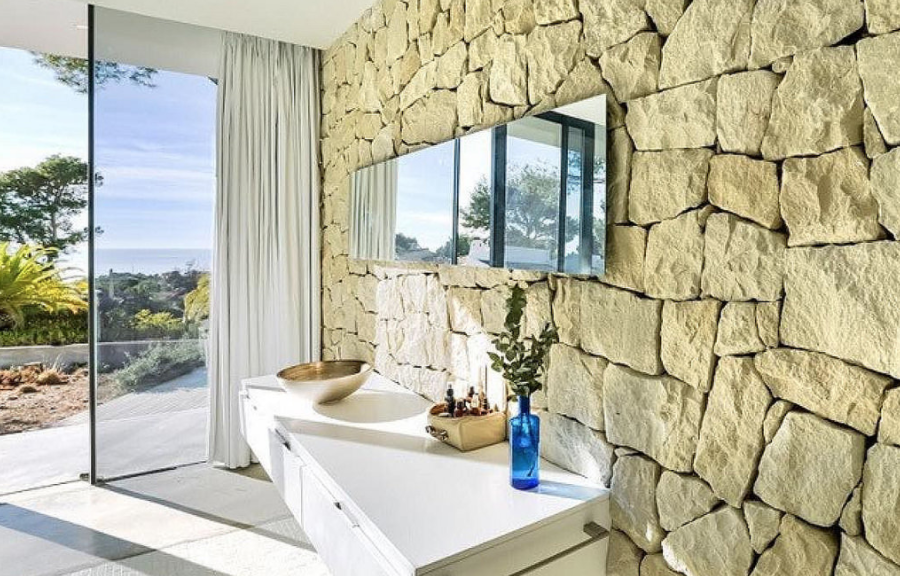 Adding Stone Work
Adding Stone Work
There are many types of interior finishes and textiles that you can use inside your home to add character. Feature walls is something that has really picked up in popularity. Feature walls can be done using a different paint colour, adding wallpaper, using laminate flooring or wood paneling. So why not try using stone work as well…
There are many options for stone work, many different types of stacks, materials, textures and colours. There are so many options to choose form. How do you choose the one that works best for you?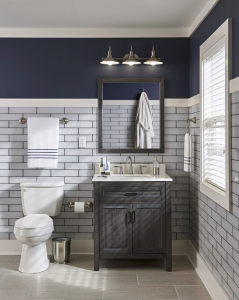 You wouldn't be wrong to think that your typical application for stone is to use it in a bathroom or kitchen back splash. The best ideas in decor sometimes come from out of the box thinking. Using natural elements as indoor decor elements has really taken the industry by storm. We are seeing more use of live edge wood furniture and shelving, more rustic tiles for flooring rather then polished finishes, sand paint, bamboo wall coverings, and the list goes on…
lets start with choosing your colour scheme. Every decor project starts with choosing a colour palate to work from. The inspiration can come from anything really, from favourite picture, all the way up to a pre fab colour palate you found at the hardware store. Your colour palate should include a lite and dark version of the colours, and an accent colour that you like. You can choose 5-6 colours that work for you and that you would like to see in your space.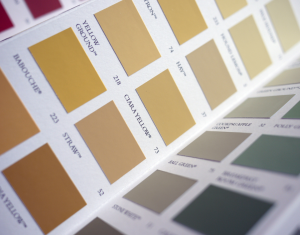 These colours are the base of your design choices and decisions, and for the purpose of this post the palate you will use to help you find the perfect stone.
Now that you have your colours, you will want to decide where you want the stone, and how you want it to look. This will take some of the stress out of the decision making when you go to the hardware story to buy your stone and see se sample after sample of all the options you have to choose form.
To help us with this decision, start with what room you are using the stone in, and how much of the wall you want it to cover. If it is a living room you may want to use the stone to make it look like your fireplace is significantly larger then is actually is. You may also choose to do a softer looking stone and do a full feature wall to help create some depth and character. If it is a family room, you may have decided to do a soft stack on the lower half of the wall with a wooden chair rail around the top of it. There are tons of options available to you.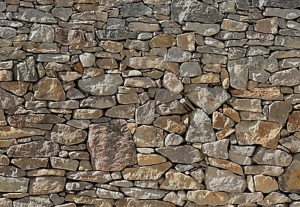 12 Feet 1 Inches x 8 Feet 4 Inches Stone Wall Mural
If you are wanting to do a full wall or you have a big area to cover, a rustic larger stone done in a soft stack is sure to give you the look your after. Soft stack is when you stack the stones on top of each other without the use of a grout in between them. The adhesive for the stone is only on the back side and each stone is stacked on top of the other putting them together like a puzzle. This type of stone allows you to get a bit more creative, and you don't have to worry about eve spaces, and in some cases, straight lines.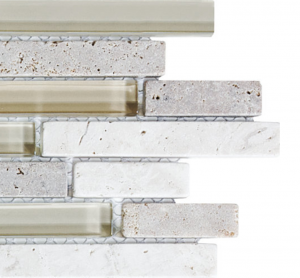 12 Inch x 14 Inch Cashmere Glass & Stone Strip Mosaics
For Laundry rooms, washrooms, and kitchens, this is the type of stone /glass mix you would want to source out, it is smaller and slimmer for the wall. This type of stone comes on a mesh background so that it is a lot easier to instal and you wont need to worry about using  spacers in between the pieces to create perfect gaps for grout lines. It will also be easier for you to line the stones up and get a straight line.
Do your research, look at different things and if possible bring home some samples to see how the stone will look in your home with your lighting and your colours.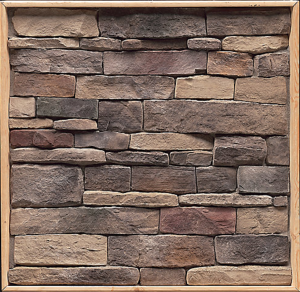 Ledgestone Tennessee Flats 9 Sq Feet
This is is another example of soft stack in a stone that is a bit flatter and longer then the previous example. I love love this stone. This is something I would use to make an exaggerated fireplace in my living room.
To explain what I mean.. I have a gas fireplace in my family room. It is nothing special, it is a white mantel with a black insert. Im currently in the process of updating my home now. My plan is to paint my living room a blue grey colour and then paint the mantel a deeper shade of that grey. The next step is to get a soft stack stone, just like the one above and use it to create a more exaggerated look for my fireplace by staking the stone two feet out on either side of the mantel and taking the stone all the way up to the ceiling. The next step will be to get a live edge wood piece that I can use for a mantel that will be placed on top of the existing one now. When it is all finished it will look like a custom made fireplace and mantel, when really it is a DIY project that I had fun putting together.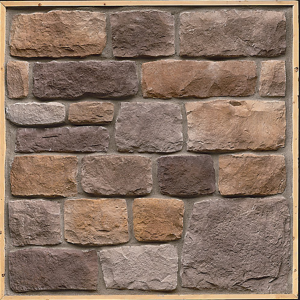 Heritage Warm Springs Corners 7 Sq Feet

Heritage Pennsylvania Flats 11 Sq Feet
If you are someone who still likes the look of grout I encourage you to look at a stone that comes in different shapes and sizes, this will really add that extra touch of character to your space.
Larger stone work does take some knowledge in the application and installation, if you are unsure it is always best to consult a professional. If you really want to give it a go and do it yourself talk to the experts at your local hardware store, and see if this is a project you want to take on your self.
A little recap…. Like I mentioned before, there are tones of stone types to choose from and tones of colour variations. So make sure you start with a colour scheme. Know the space you want the stone in and how you want to use it to enhance the decor in the space. Next depending on where you are using the stone, you will want to decide if you want a soft stack or use grout lines. And then finally choose the stone you want.
Most of the time this stone is a custom order. You will want to keep this in mind if you are working with a time line for your project. Take your time, and enjoy the process, I know it is a major undertaking to do a project like this but it is so worth it in the end.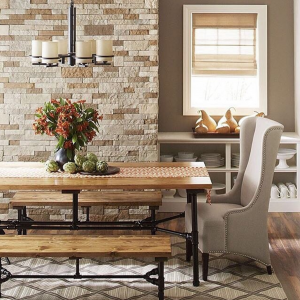 Gone are the days of basic and straight forward design concepts. Decor and design is about expression and adding your own touch to the space. Creating depth and character through layers of different materials…
Painted walls with stone accents, live edge table with plumber piping for the legs. textured carpeting on hardwood or laminate flooring. These layers add a depth and warmth to the space, it also makes it inviting and really cozy. I love that decor has gone in that direction, it really allows you to have fun and do things you want to do.
If you decide to do a stone wall or add stone to help create an accent space in your home please share your experiences, the good bad and the ugly. I love seeing the things people come up with, and if you need any help please reach out and ask…
Decor is creating a lasting impression, what will your be?