Refreshing Your Bathroom
Refreshing Your Bathroom
The season of entertaining is among us. Over the year we have had the best intentions to redo the kitchen, or paint the living room. We go to the laundry room and think… I would love to make this more functional. You get into the washroom in the morning and have your shower and think… This bathroom needs a totally new look. But of course life gets in the way and the budget doesn't allow for those large makeover looks you see on TV.
We are into December, now your stressed. You have people coming over over the holidays and you don't feel like things in your home are ready for the entertaining season.
I get excited watching all of those makeover shows too. They have so many great ideas. Problem is, a lot of those ideas come with a large price tag. I, like you, have a lot to do bit don't have tons of money to do it.

Welcome to my humble and not so put together washroom. It has good bones but the over all look and cozy effect are seriously lacking. I could go crazy and get a new vanity and light. Paint the whole thing, maybe add an accent wall.
I could then gut out the shower and add new high end tiles and a nice new tub. Put in new trim, and then buy all the new finishing touches to finish the look.
Great dreams, but not the reality. The price tag for that would blow my budget, not to mention the fact the chances of it being ready in time for Christmas and New Years is very unlikely. So I chose to work with what I'v got make the old look new again.
First things first, get inspired! go out to some decor stores near you and see whats new and exciting out there. Check out the new textures and color schemes, and find the things that speak to you the most.
In my washroom the wall color is lite grey, the tile dark grey and the vanity white and grey. To add punches of color and to freshen this space up I do have lots of options due to the basic color scheme. Thank goodness..
(create a picture with all the finishes – towels, accessories etc)
I chose to go a little more feminine. I added a nice soft pink and a rich dark charcoal color to the color scheme to give it a bit more punch.  We don't have the space for a his and hers sink,  but there is two of us using the washroom each day, so I found bathroom accessories that would suit both of us. It may be a bit much for some people, but it works for us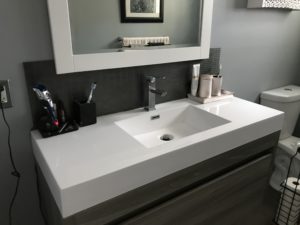 As you saw, I bought three different colors for towels and used them to brighten up the space.
I didn't have a bath mat, this was the perfect opportunity to find one that worked well with the look and colors now added into the bathroom. I even got a new toilet paper holder to add a punch off dark.
Eventually I will replace the towel holder to a darker finished metal, and then change out the lighting. With the changes I did with the bathroom so far I think those larger ticket items can wait till after the holidays.
Over all I'm very happy with the new look. It's simple, the cost was only $250, and my bathroom looks much more inviting and fresh for all my visitors over the holidays.

Decorating doesn't have to be a massive project that takes up a lot of your time and breaks your bank. This project was started and finished in the same day. I really felt like I accomplished something, and my bathroom felt like a whole new space.
We all have enough stresses in other aspects of our lives. Decorating should be fun. Don't put to much pressure on yourself and don't be afraid to explore. One tip when buying new decor pieces, always keep the tags on and always hold onto your receipts. Set everything up, take a step back and see how it all comes together. If your happy wth it, great, you can then take the tags off and set it up for good. If you think something is missing or just isn't right, start with a second opinion, if your still not happy then you can always return it or exchange it.
I hope you enjoy the process and get to have some fun with your new look. let me know how your project goes or if you need any help with some suggestions. Leave a comment below and I will do what I can to help..