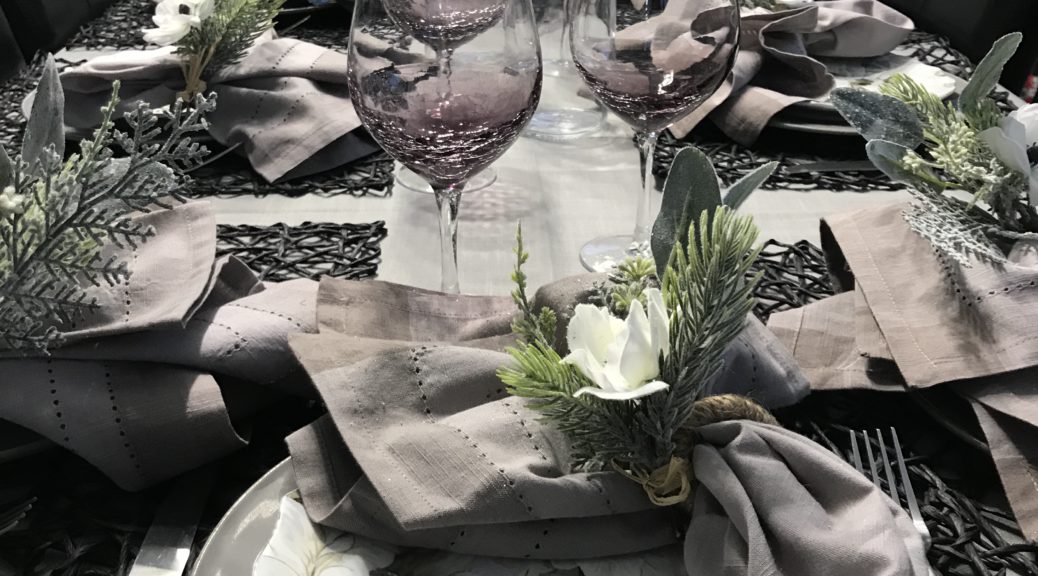 Your Christmas Table, Start to Finish
Your Christmas Table, Start to Finish
Entertaining at your home for Christmas can be very stressful. You are secretly or not so secretly concerned about what your family and friends will think of what your house looks like or how the presentation was laid out. We all have those people in our families that say not to make a fuss for them, but are the first people to call everyone after the fact and complain about everything they didn't like.
Let's get prepared and own your Christmas dinner.
We could spend lots of time going room by room talking about things you can do to get ready for your guests but I want to focus on the Christmas dinner table.
To get started:
You will first want to pull out what you already have for platters, dinner wear and glass wear for entertaining. See what you have and what you may be missing. To make sure you have everything you need you will want to have a good idea of the menu for the night to be sure you have enough platters and serving pieces. You will also want to have a head count for how many place settings you are going to need.

Christmas dinner usually includes an increased number of guests then you may have on a regular basis. Because of this you may not have enough matching dishes to fully set the table. Entertaining and presentation does involve a budget, unfortunately the initial cost of collecting dishes, platters, serve wear, glasses, napkins and napkin holders, and so forth does come with a price tag.
Now you can be smart with what you buy, do your research and find deals at your favourite decor store, there is always a promotion going on somewhere for something you will need. You may also be able to get away with using your current dishes and then adding some new ones, creating the look of every other setting as an alternate plate set and then use the same placemats and napkin displays to make it look like it was sopose to be like that. The trick with this will be to find a set that matches with similar color tones and size.
Plan it out: 
Once you have an inventory of what you have and what you will need you are ready to start, or pop out for a little shopping.
My table in my dinning room sits 6 people, but I can put 8 there if I need to, in preparation for this I make sure to have a set of 8 for my dishes, napkins and napkin holders, place mates and glass wear.
When it comes to entertaining, especially for a nice super, I choose to put a table cloth on the table. I find it makes the setting look a bit more formal and put together.
Next thing I will want to do is take  a look at the space I'm using for my entertaining. Plan out where I want to put all my baked goods, munchies and snacks for before and after super finger foods, and where Im wanting my guests to get their dinner from. For my set up, I'm using my kitchen table for the snack set up as it's right off the family room and easily accessed, and then my dinner set up will be in the dining room.
When considering how I wanted my guests to receive their dinner, I had to ask myself… Am I plateing in the kitchen and then serving in the dining room? Do I have a table large enough to have all the food and the table settings on it at once without being crowded? Or am I going to use a side board by the table to put all the food on for your guests and then they can easily help themselves for seconds and pass food around.
There is a lot of planning involved, but a good plan will make for a smoother execution and less stress. Don't rush through this process, you don't want to have to redo your set up once you are half way through because you forgot somthing.
Once the plan is in place, and your shopping complete, you are ready to start executing the set up.
Making your table: 
Your Christmas table is done in layers. The first being your table cloth, followed by your place mats and glass wear.

Once you have that completed you can add your plates, then your cutlery, followed by your napkin layout to compete the look.
Little side note for the napkin part, some people will put the napkin the the wine glass, some will lay it beside the plate and others will put it on the plate. It really comes down to space and personal preference. I have included images below of all three types of napkin placement to help you with your decision and to show you what they will look like.

Because of the space I have and the way I planed to entertain, I decided to use a side board decorated with a runner and a floral arrangement to put all my serving platters and dishes on. This way I'm not getting up and down to get things for guests out of the kitchen, and the food is easy to get to for seconds for those that want them.
Stand back: 
After you have completed your setup you will want to take a step back and see the big picture. See how it all comes together and check to make sure you didn't miss anything. I usually like to set the table a day or two before the dinner, this way it's not a rush around last minute, and I have a chance to fix anything if I needed to, or run out to grab anything I forgot about.

Having a well thought out and well presented Christmas table will wow your guests. It will also make you feel really good about entertaining and having people over.
If your unsure of how to get started or what to do, there are always lots of images out there for inspiration, it's ok to copy them using the items you have at home. How decorative you get it completely up to you. Try to have some fun with it and not get caught up in the stress of rushing to get things done.
Happy entertaining!