Adding a Feature Wall
Adding a Feature Wall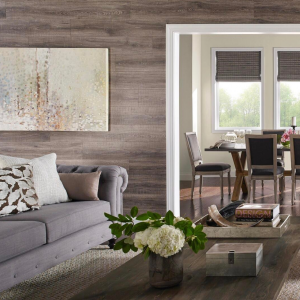 When decorating a space there are so many creative options available to you to make a great impression. It's not always just a three step process… Pick your furniture, find a paint colour that matches, and then pick accents like cushions and ornaments to bring it to life. Yes you can do many things with those three steps, but why not take it a step further? One of my favourite ways to do that is to create a feature wall.
A feature wall can add a lot of character to a space. There are a number of different finishes you can use to achieve this. The most common choice being a different colour of paint, or wallpaper. Texture is gaining popularity in decor planning, if texture is something you would like to explore, take a look at the applications of plasters, tile, vinyl, wood, laminate, stone or bamboo.
Using Paint
I recently did a project where I used a color palate of tone on tones to create depth and variety in this open concept space. In a project like this, it can be easy to get out of control with color, so I created a feature wall in every room using a charcoal grey. By doing this I was able to create a cohesive feel between all the spaces in the house as you go from room to room.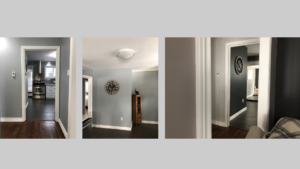 Before the project the entire house was painted the same shade of grey blue. This is a common thing people tend to do in an open concept space. We decided to get a bit more creative with this project and it turned out great.
Using Texture
If you are looking for a more textured finish for your accent walls there are all sorts of things hardware stores sell to help you with that. Texture wall paper can be fun, you can put it up and then paint over it so you get the texture with out a complicated install.
The above are a few example from homedepot.com of wallpaper you can get with texture that is paintable. You can click on the images if you want to check them out online. Wall paper isn't for everyone, but if your familiar with the application then you may like this option.
If you want to get more hands on you can try a stone or tile on the wall. The options available at your local hardware store can really seem endless. The install can be a bit more complicated so if your not familiar with the process you may want to have someone assist with the install.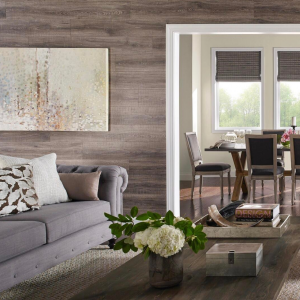 The use of different finishes to create the feature wall really bring it to life. Take this space (image above) that Lowe's created as an example. To build the feature wall they used a laminate flooring by Pergo. I love this, it's creative, its fresh, and makes the living room look so cozy, a place you can retreat to.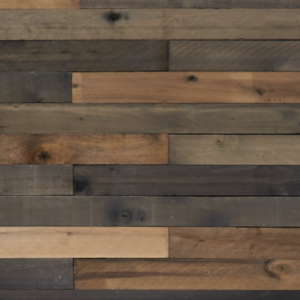 If you aren't sure about putting flooring on your walls, another option is to use slats of wood. One of my favourite things to use is wood planks or panels. The older and more beat up the better. I recently did a residential project with some wood I found at homedepot.com. It came in a box with a variety of different stained colors. You can click on the image about if you want to see it online.
The pieces come all the same size so you have to cut them yourself to adjust the seam lines, but once it all comes together it looks great. There will be a post in the DIY section on this site where I show the step by step process of how I put the wall together… If this is something your interested in trying check it out.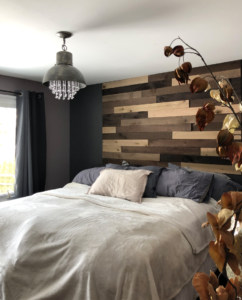 The project start to finish only took a couple hours. I just used finishing nails to tack the wood into place, and the finished product really turned out great .
Decor it forever changing and developing, jump in and let it happen. You will be happy you did.
I Hope I got your creative juices going… Let me know of any projects your taking on, just leave a comment below…